How to conduct a biased survey: Firstly, ask loaded questions that preserve your key assumptions (in this case that breastfeeding ought to be encouraged and stopping or not starting is a bad thing). Secondly, distribute among groups who support your mission (e.g. breastfeeding advocacy groups).
These are the questions asked by MP Alison Thewliss in this survey to inform a debate in parliament on Tuesday 8 March: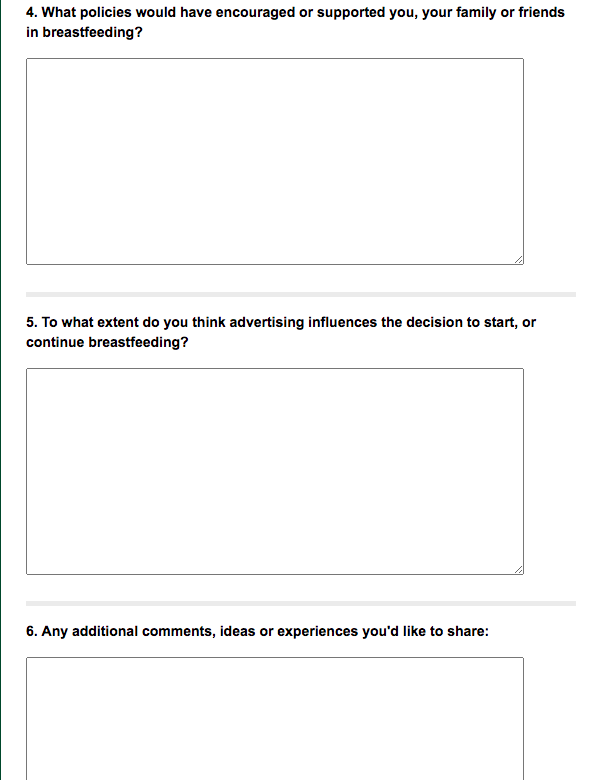 Well, we have some questions for you, Mrs Thewliss.
Here is the outcome of a review funded by Public Health England into the impact of so-called Baby Friendly practices. Not impressive is it? No evidence of any positive health effects in the UK or a comparable high income context. So why are all families in the UK subject to these policies without our consent?
Some of our babies suffered deleterious consequences of insufficient milk intake, including requiring phototherapy for jaundice and treatment for dehydration. The evidence is clear that exclusive breastfeeding increases the likelihood of such occurrences.
Qualitative research in another review of evidence regarding the effects of so-called Baby Friendly practices in the UK suggested the possibility of adverse maternal mental health consequences from this approach. We can't know for sure because there are no studies comparing maternal mental health outcomes of the so-called Baby Friendly Initiative compared to an alternative approach. So we repeat: Why are we all being subjected to this?
Are you prepared to look at the evidence here? What effects do breastfeeding promotion initiatives have on infant and maternal health outcomes? And are you willing to listen to women? Think carefully before answering that question, because many of us have found that it is impossible for our stories to be heard on their own terms, as Ruth Ann Harpur articulated in her recent blog for IFA.
Time to rethink infant feeding policy and ensure policies serve families, not feeding methods.
Complete the survey before midday on Monday 7 March to tell Mrs Thewliss and MPs about your experience of breastfeeding support. Tweet your answers @feedingalliance so we can make sure the voices of all parents are heard. Invite your MP to attend the debate on Tuesday 8 March to ask questions on your behalf.